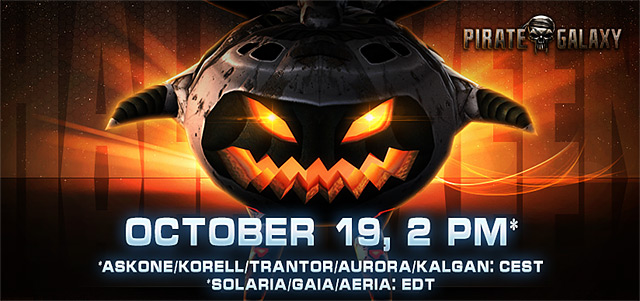 The spirit of Halloween returns to Pirate Galaxy on October 19th!
The event will start on

October 19th

at

2 PM

local server time*

Global boosters:




Shield+

(20% damage reduction)

Blueprint droprate+

(120% blueprint drop chance from enemies)

Rare blueprints:




Mizar blueprints

Mizar Maneuver Damage Inverter

Mizar Mindstorm Corruption Cloud

Mizar Mischief Scope Shifter

Sol blueprints

Sol Shifter Damage Inverter

Sol Shroud Corruption Cloud

Sol Stymie Scope Shifter

Draconis blueprints

Draconis Deviant Damage Inverter

Draconis Derange Corruption Cloud

Draconis Drawback Scope Shifter

Sirius blueprints

Sirius Ancient Damage Inverter (regular/long/strong)

Sirius Ancient Corruption Cloud (regular/long/strong)

Sirius Ancient Scope Shifter (regular/long/strong)

Spaceship & drone blueprints

AnIn-T79 Emperor Parsec

Alien Pumpkin Drone (increases your ship's hit chance)

Note that different event units carry different sets of blueprints.
These also differ between star systems!
* Askone, Korell, Trantor, Aurora, Kalgan: CEST | Solaria, Gaia, Aeria: EDT