Tau Ceti
Hey Space Pirates,
I bet you are eagerly awaiting this dev shack. Tau Ceti will continue the Pirate Galaxy saga and cast some light onto the mysteries yet unresolved. What secrets are connected to the crystal the pirates have stolen? Could Olex Humblotz find out more about the Ancients—and what new technologies are about to be uncovered in Tau Ceti?
Many questions… and here are some answers
Design Goals
Provide classic system structure similar to the previous star systems such as Vega-Draconis.
Ensure that Sirius tech Bps are required to progress and unlock Tau Ceti content.
Tau Ceti Content (snipped)
New story/regular missions
New story planets
New ship classes
New Tau Ceti tech
New maximum level
etc.
Due to the size and complexity of this update we plan to release it in parts, like we did with previous updates. With this step you are able to start playing the new Tau Ceti content earlier while we continue the development/testing on the follow-up updates. This time we will additionally make a new dev shack for every part so that it will be easier to find specific postings and feedback.
Part 1
Now let's get a bit more specific. In Tau Ceti Part 1 you will finally be able to acquire new TC tech and ships together with some new gameplay elements. Take a look at the things you can expect:
Planned Changes
Ability to replay existing Tau Ceti episode 1 & 2 as the start of the storyline of Tau Ceti
Story missions that continue from episode 2
Regular missions to gather new tech
Vénar will have all its areas on the map accessible
Ability to farm TC tech together with new item types
Ability to farm/unlock new TC ships
Introduction of a blueprint dependency mechanism
Hope you like what you've read so far! Here's a little sneak peek of another TC ship.
P.S.: Don't forget to leave your feedback and questions here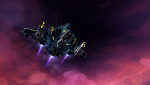 Google's translation bad?
Community translations of this changelog will get linked here (author's name included)!
Traduccion al español hecha por:
Destroier6
Aqui
Tradução em Português:
Aqui
Traduction française
par Fra_592 :
ici
Deutsche Übersetzung
von Gladiator96, DaKuaz und Onrefni Krad:
klick hier