Game Update September 15, 2021
Between
8:30 AM and 9:30 AM UTC+2
, the game servers will restart for a game update to be deployed.
Conquest Gameplay
Ore Sites & Distribution
The ore spawns behavior will be changed to make map control more important with reduced randomness.
All active ore sites will spawn 1 ore at the same time

Heated areas will double their spawned ore amount (heated will always spawn ores)
Spawn rate will be multiplied by the amount of currently active areas to ensure that the overall output remains the same but at the same time increase the spawn speed towards the end when areas start to deplete.

Changed that 2 heat areas at the same time to 3 to avoid a simple split (favor odd numbers)
Multiple heated areas will only have a chance to happen when 5 total active areas are available
During Showdown (final minutes of the match), all remaining active areas will turn into Heat mode
Heated areas are not allowed to deplete (Only when there are no other regular areas left to deplete.)
Prevented that the last deactivated areas of a match are inside the Landing Zone or intersecting it
Ore Site Status Notifications
Notification of ore site status changes before they happen.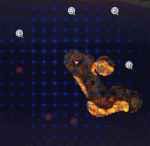 Shows message 1 min before an area goes into heat mode or deactivates.
Pre-phases are visualy highlighted with animations on the planet map and the ore site beacons itsef with have different colors.
Materialization
Introduce different rescue cooldown timers for each rescue option.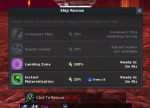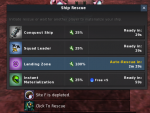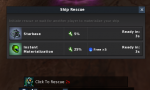 Adjusted cooldown timer based on the rescue option on Conquest

1 min for Landing Zone
1,5 for Conquest Ship & Squad leader
2 min for Instant Mat

Increase Auto respawn timer from 1,5min to 2,5min to be greater than the regular cooldowns
Using a Conquest Ship will take a minimum of 3 minutes for each rescue option. If the options are longer than 3 min it will use the longer time.
Rescue layout overhaul for the conquest and regular window. (Icons still WIP)
Bug Fixes
Fixed an exploit that could potentially trigger Quests multiple times by a single user
Fixed an issue that locked the UI of the Quest Board when pressing "No" on the "Your squadron already has a mission running.
Fixed when a NPC was attracted by a Deflection Droid, deflection damage caused by that NPC by attacking the droid would only attribute the generated deflection-damage-aggro to the player, rather than the droid itself, making the AI switch targets and attacking the player directly. Now the aggro is attributed to both, the droid and the player alike.
Fixed wrong use level for "Fusion Quantum Aim Computer"