Game Update May 11, 2022
Between
8:30 AM and 10:30 AM UTC+2
, the game servers will restart for a game update to be deployed.
New Conquest Mode: Open Team Battle
Open Team Battle is an alternative Conquest mode that works independently of clan organization. Whether you are in a clan or not -- OTB is open to all, and any rewards will go to the participating pilots directly instead of going into the clan fund.
Starting with this update, a small number of entries in the rolling Conquest battle schedule will be set to Open Team Battle mode.
The majority of planets will still be scheduled in regular Clan Battle mode.

When registration fails for a planet scheduled in Clan Battle mode due to low attendance, that planet will switch to Open Team Battle mode.

There are a few ruleset adjustments for Open Team Battle Conquest:

Mining Tickets (which are used to register for regular Conquest) are not needed in Open Team Battle. Any pilot can participate, as long as the planet's tech level is met and the maximum team size of 25 has not been reached.
Conquest Ships are not allowed.
For a detailed look at Conquest rules, check the in-game help window which can be opened from both a Conquest planet's orbit and the planets list in the Clan window: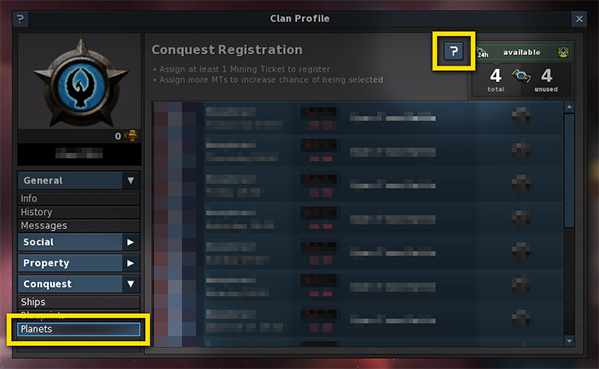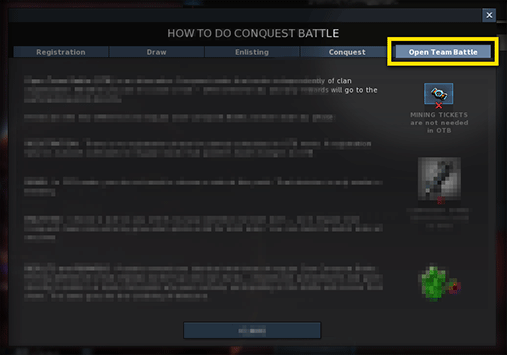 When you participate in Open Team Conquest, you will auto-join a new chat channel for your team for the duration of the match. When Conquest ends, that chat channel will be closed again.
Other Fixes
Improved visual fidelity of some 3D viewports by increasing their resolution.
Minor stability improvements.