Game Update December 14, 2021
Between
8:20 AM and 9:30 AM UTC+1
, the game servers will restart for a game update to be deployed.
Event Preparations
Locale Display Improvements & Fixes
Settings Window

The names in the Language selection dropdown menu are no longer translated according to the local operating system's setting; instead, they are made up of two parts now:

Part one is the name translated to the currently selected in-game language.
Part two is the name in its native language.
For the currently selected language, both parts would be identical ‒ so we are only showing one.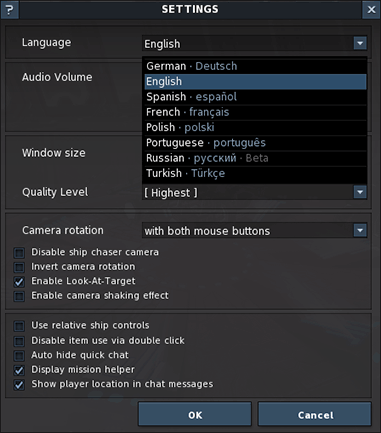 Pilot Selection Window

Servers now show additional information next to their names:

Server region (EU or US)
Preferred chat language

Create Pilot Window

Server now shows additional information next to its name:
Fixed that server changes during the pilot creation process would not properly update the Create Pilot window.
Fixed that the server list was not properly updated when switching back to the upmost region / language.
Fixed that the language listing in the Server Selection window could get stuck when server regions were changed.

Other Fixes
Removed the "Beta Feature" label from the ladder rankings window.
Messages posted to the in-game chat are now limited to 250 characters (previously: 300 characters).