Game Update August 10, 2021
Between
8:30 AM and 9:30 AM UTC+2
, the game servers will restart for a game update to be deployed.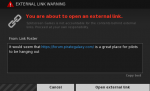 Chat ‒ External Link Window
We are introducing a window that can be invoked when a chat message contains at least one link to an external website. This window allows players to open links that are posted to the chat, and also to copy the chat message text. It also informs players about the potential risk that external links can pose.
A way to copy text/open links from chat messages has been added to chat, which is invoked by shift-clicking a chat message.
Shift-clicking a chat message containing a link will not open the link right away, but show a new window first:

The window informs of possible risks when opening external links from unknown / untrusted sources.
The window allows to open the first link that is contained in the chat message with the press of a button. Only the first link in a chat message can be opened this way.
The window also has a "Copy text" button that allows for the copying of the whole chat message.
Conquest Adjustments
Changed the "Collect Mining Tickets" Achievement:

The achievement has been renamed to "Mining Ticket Utilizor".
Any progress that has been made in the old "Collect Mining Tickets" achievement is preserved.
Progress is now being made after a Conquest battle has taken place, and only for pilots who actively participated in that battle.
The achievement progresses based on the number of Mining Tickets that your clan chose to invest in the battle at hand. Example: Your clan invests 12 Mining Tickets -> your clan is selected for Conquest battle -> you actively participate in that Conquest battle -> your pilot's "Utilizor" achievement count increases by 12.
The achievement's tier thresholds have been lowered, so the amount of achievement points that could be gained from the achievement has been reduced as well. Please note that it will take some time until the updated numbers have carried over to the Hall of Fame.
Two new achievement tiers have been added, for 500 and 1,000 utilized Mining Tickets. Please note that the two new tiers will not receive progress from the previous "Collect Mining Tickets" achievement; both of the new tiers start at 0.

Other Conquest changes:

The time interval between Draw and Enlisting (aka preparation phase) was reduced to 24 hours. (This will start to be active after the current set of conquest planets have finished and get re-added to the end of the planet list)
The maximum number of Mining Tickets that a clan can hold was increased from 10 to 30.
Bug Fixes
Fixed a bug affecting all generic "White" missions which under certain conditions could cause them to never complete.
Fixed an issue that prevented the drone slot list (ship config / hangar) from being updated after purchasing a new slot or recycling an existing one.
Fixed an issue that caused the in-game shop to stop working when color pattern blueprints were offered in promotions.
Fixed threading issue when buff effects are added to a ship causing possible crashes or display issues.
[Edit 2021-08-20 10:12 UTC] Added information on the two new achievement tiers of the "Mining Ticket Utilizor" achievement.