By now you have probably had the chance to enhance your ship's attributes by installing a drone. Maybe you even had to choose between multiple drones from your collection?
From now on you will not have to ask yourself that question any more, because we answered it together with other new drone-related features in today's update!
Carry Multiple Drones
Your ship can carry more than just one drone now! To install them, just visit the hangar – once underway you can decide which drone to activate or charge at any time.
Upgrade Your Drones
All drones whose attributes were not determined by the galactic event Spaceball 2K12 are now upgradable – that includes the A101 Armor Drone that has already become a regular companion for many of you.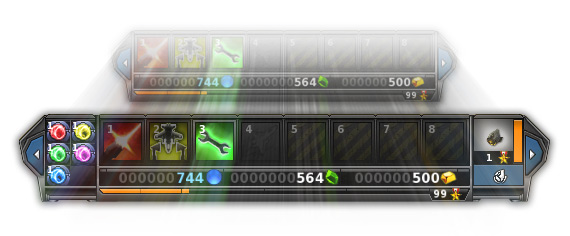 Directly Access Drones + Gravitons
You can reach the new drone setup directly from the item bar! Gravitons can now be used just as conveniently. You will see: The new extended item bar makes things so much more comfortable.
Save Energy, Gain Performance
You may know this situation: You were just playing the new Pirate Galaxy event with your friends and decide to drop the latest tactics hints into the forum. Once out of focus Pirate Galaxy will now automatically turn on its "Power Saving Mode" so switching to other windows is fluid and hassle-free even on slow PCs.